ECSC 2019 - The Pytector
13 May 2019
description: Retrouver le numéro de série pour valider le challenge
category: reverse - 484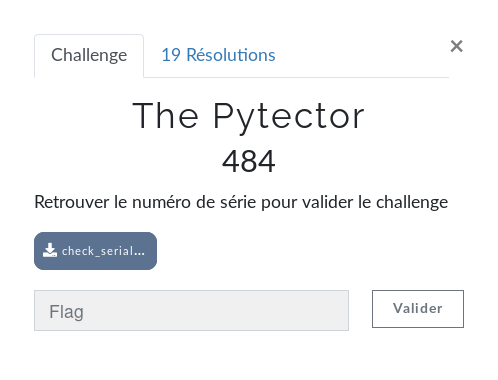 A zip file is attached to the description.
The zip file contains a .exe and some .pyd (dll) files.
Looking to IDA strings, I found some interesting things: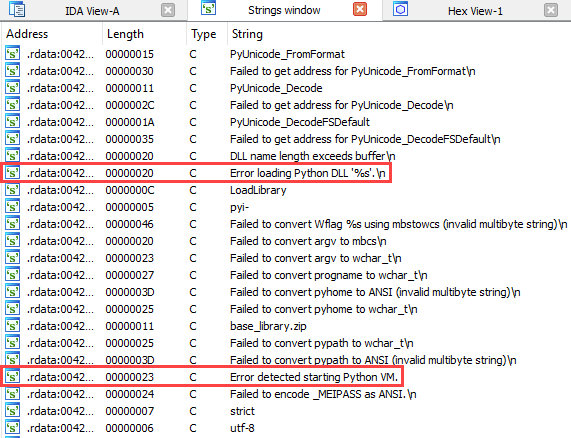 Also, I found interesting things with strings:
With these information, we can guess some python scripts are packed in the PE and executed in a VM with python37.dll
I found a tool on github to extract these files:
It is PYC file but the header is missing, I tried some tools but it didnt work well, then I found an online decompiler.
This is the fake_check.py file:
I don't know why but the script it XORing 2 char and it throws an error… I patched it adding the ord function, but I actually don't know how it is working in… Okay the check function is easy to bruteforce (and we can guess the flag length: 47):
This is our output:
Well it seems that this is not the correct flag. Looking closely to the fake_check.py code, we forgot the import pytector line… Okay let's see the pytector.pyd (in the initial .zip).

This strings lead us to some code modifying the fake_check during its execution.
The passwd table is modified: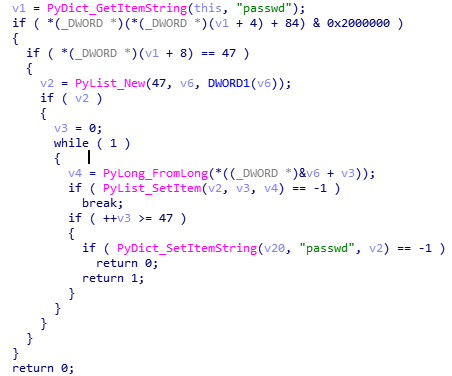 The p table is modified: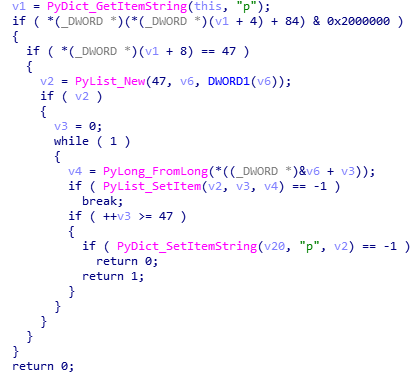 And the check function bytecodes is modified too: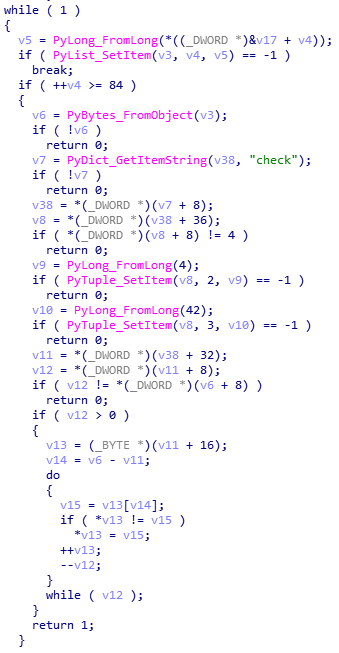 It is possible to do it in static but I prefer the dynamic way.
You cannot modify the check function (for example add some print) because the pytector will detect it and won't work.
I added the pdb module to debug the script:
This is what I've done in the debugger:
Okay we have everything we need. Using the dis module we can disassemble the co_code:
Nice, all we have to do is to read this.
I added comments to understand it:
(PS:
LOAD_CONST index -> load co_consts[index]
LOAD_GLOBAL index -> load co_names[index]
LOAD_FAST index -> load co_varnames[index])
Okay we have the new code, we can finaly get the flag:
And the output:
This is the good flag: ECSC{f4a05_0b24e_ac186_f368a_2d031_a56d6_896cb_849aa}