ECSC 2019 - PHP Jail
13 May 2019
description: Saurez-vous sortir de cette prison PHP pour retrouver le fichier flag présent sur le système ?
category: misc - 288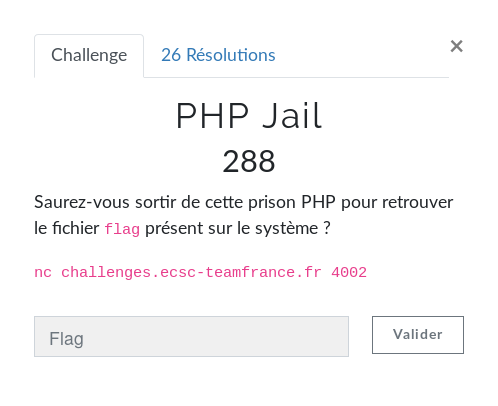 The challenge is giving us a command to interact with the service: nc challenges.ecsc-teamfrance.fr 4002.
We can execute a php command and it will be executed. Let's see the phpinfo (I deleted useless lines):
Ofc we can't use system, shell_exec, etc…
But mail() and putenv() are enabled so we can execute a command using LD_PRELOAD because mail() is calling execve().
To understand clearly you can read this post
So we will use this github tool
Then I modify the file so the payload is stored on 1 line (the line must end with an \n else the command won't be executed) and we send it using nc:
Nice, all we have to do is to change rev.sh, regenerate the chan.php file and send it to the serveur:
The flag is ECSC{22b1843abfd76008ce3683e583c66e85c6bbdc65}